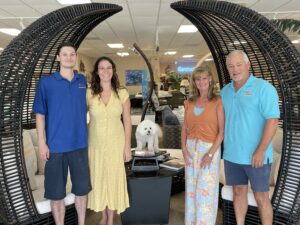 A message from Joe, Sue, Nick and Ellie of Antonelli's Furniture
We are excited to say that this year marks our 36th Anniversary in the retail business. At this time we would like to thank all our loyal customers for their patronage throughout the years.
Thanks so much for visiting our web site. If you're in the area, we also invite you to visit our showroom located on Route 192, 3398 W. New Haven Avenue,  1/4 west of Wickham Road. We look forward to continuing to serve  our past as well as our new customers for many years to come.
We at Antonelli's Furniture would love the opportunity to help you furnish your home. We have a large assortment of both indoor and outdoor furniture along with many accessories to complete the room. And, as you'll discover, at Antonelli's you'll find the finest quality furniture and accessories at the fairest prices possible.
At Antonelli's we carry many of the top names, such as:Brevard Furniture Imports, Pelican Reef, Capris,  Sea Winds Trading Company, Classic Rattan,  Hatteras Hammocks, Lloyd Flanders, Panama Jack Outdoor, Woodard and of course POLYWOOD which leads the industry in outdoor furniture. So whether you are looking for patio, indoor rattan and wicker, fully upholstered furniture, outdoor all-weather wicker or aluminum, you'll find we have it all at Antonelli's.
Antonelli's has been serving the folks in Brevard and the surrounding counties since 1987. Our commitment to your satisfaction is second to none, a claim we hope you'll allow us to prove to you, whether on-line or in our showroom.
Please visit our page on facebook; Antonelli's Furniture.
For further information e-mail us at info@antonellisfurniture.com or call us at (321)729-9005. And thanks for thinking Antonelli's for all your furniture needs.
Be sure to check us out on Facebook and Instagram for up to date information.
Thanks, again, from all of us here at Antonelli's Furniture