Reflections Seating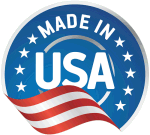 Beautifully-crafted to stand the test of time.
Lloyd Loom® furniture is still made in the same facility where this special process was first developed in 1917. Marshall Burns Lloyd created a process by which cellulose strands are woven into a wicker fabric as an alternative to the then popular method of wrapping cane around a frame. Each hand-crafted piece of Lloyd Loom furniture made today uses the same process to create the loom fabric, though we've added advanced technologies over the last quarter century to produce a continuous strand that will not burr, crack, or peel, resulting in a consistently smooth weave.
Weaving
The fiber used to create Lloyd Loom fabric is twisted into a sturdy cord and wound onto small spools, then rewound onto larger spools that feed into the looms. Our looms draw cord simultaneously from more than 500 spools to weave the Lloyd Loom fabric. A unique feature of Lloyd Loom is the use of aluminum stakes encased in loom fiber. These stakes are inserted into the fabric for enhanced stability and durability.
Wrapping
Once the loom fabric is woven, it's sealed to withstand the elements, dried and wrapped onto massive spools. These spools are taken to the cutting room, where the wicker fabric is cut to shape for each piece of furniture. Skilled craftsmen fit these pieces of fabric to aluminum frames that are shaped and welded in our facility, taking great care to stretch the wicker into place and secure it with custom-made stainless steel staples. The edges are trimmed and wicker braid is fitted into place by hand so that each piece is beautifully finished.
Finishing
Fully assembled pieces are taken to our paint shop, where each receives two coats of environmentally friendly yet exceptionally tough Durium® paint. This advanced finishing material is a high solid, polyester resin based paint that's as flexible as it is durable, so it coats the furniture beautifully while providing a finish that can withstand summer heat and winter snow.
Natural-fiber wicker with a long-lasting high performance Durium polyester coating for outdoor durability and flexibility. The continuous weave avoids burrs and cracking, and increases visual appeal by eliminating any visible material ends. Available in 20 custom paint finishes and over 400 fabrics.